So
handyhunter had a post about the Will Smith as Captain America rumors (don't get excited, they're just rumors) which led into a post where she recast different Marvel characters with actors who are PoC, and then bossymarmalade followed up here with more picspam, mostly X-Men. And I commented to bossymarmalade suggesting Jon Huertas as Wolverine, and then was going to make more suggestions, but after a certain point it was just like omg, make your own post already. With pictures.

So! I tried not to redo *too* many of the actors/characters that bossymarmalade & handyhunter had already used..... but I totally had to steal
handyhunter's idea of Sandra Oh = Jessica Jones BECAUSE YES.



SPIDER-MAN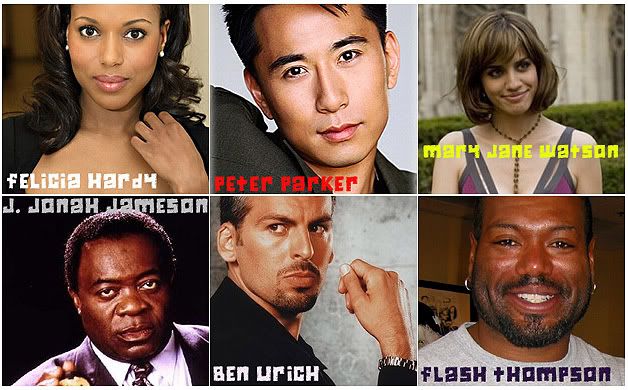 Peter Parker .... James Kyson Lee
Felicia Hardy .... Kerry Washington
Mary Jane Watson .... Natalie Morales
Flash Thompson .... Chris Judge
Ben Urich .... Oded Fehr
J. Jonah Jameson .... Yaphet Kotto

Ironically Kerry Washington was already in a Marvel movie playing a character who was white in the comics (Alicia Masters, Ben Grimm's girlfriend) but I think she would be better as Felicia Hardy. *G*




FANTASTIC FOUR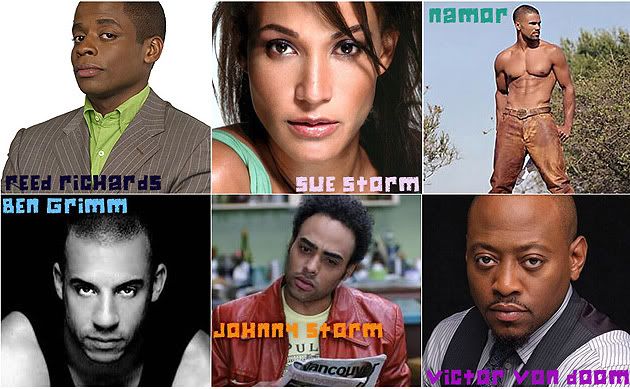 Reed Richards .... Dule Hill
Sue Storm .... Rachel Luttrell
Johnny Storm .... Rainbow Sun Francks
Ben Grimm .... Vin Diesel
Namor .... Shemar Moore
Victor Von Doom .... Omar Epps




MISCELLANEOUS




Mystique .... Naomie Harris
Emma Frost .... Lucy Liu
Tony Stark .... D.B. Woodside
Bruce Banner .... Benicio Del Toro
Jennifer Walters .... Gina Torres
Logan (Wolverine) .... Jon Huertas
Jessica Jones .... Sandra Oh
Bucky Barnes .... Francis Capra
Alison Blaire .... Mindy Kaling

(YES MINDY KALING AS DAZZLER IT WOULD BE AWESOME. *G*)

On a related note, my fantasy casting for the imaginary Heroes for Hire movie is over here, and muccamukk on dreamwidth has been doing some awesome Luke Cage posts lately.


eta: further entries in the meme!


nextian recast DC's Lucifer here


entwashian recast BTVS here (seriously, go look at this one, the way the pictures match the *feel* of the characters is very impressive)


trascendenza recast Star Trek and DCU mostly with women of color.